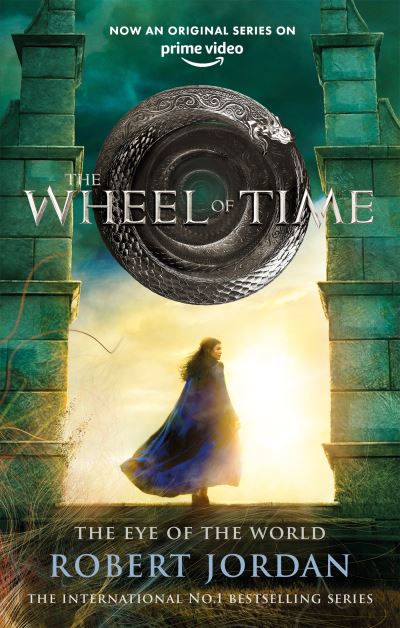 During the Third Age, the Age of Prophecy, the world & time hang in the balance, in peril under the falling shadow.
NOW A MAJOR TV SERIES ON PRIME VIDEO

The first book in the No. 1 international bestselling Wheel of Time saga that inspired the TV series.
When she arrives in a small village in the Two Rivers, Moiraine discovers three young men, each of whom might be the long-awaited and reviled Chosen One, the Dragon Reborn. But she is not the only stranger new to the village, nor the only one searching. In a race against time and the agents of the Shadow, she must guide her charges through lands of myth and legend, toward allies both new and old, and into the footsteps of prophecy.
The Wheel of Time turns, and an epic adventure begins.
'EPIC IN EVERY SENSE' Sunday Times
'WITH THE WHEEL OF TIME, JORDAN HAS COME TO DOMINATE THE WORLD THAT TOLKIEN BEGAN TO REVEAL' New York Times
'[THE] AMBITIOUS WHEEL OF TIME SERIES HELPED REDEFINE THE GENRE' George R. R. Martin
'A FANTASY PHENOMENON' SFX
The Wheel of Time series:
Book 1: The Eye of the World
Book 2: The Great Hunt
Book 3: The Dragon Reborn
Book 4: The Shadow Rising
Book 5: The Fires of Heaven
Book 6: Lord of Chaos
Book 7: A Crown of Swords
Book 8: The Path of Daggers
Book 9: Winter's Heart
Book 10: Crossroads of Twilight
Book 11: Knife of Dreams
Book 12: The Gathering Storm
Book 13: Towers of Midnight
Book 14: A Memory of Light
Prequel: New Spring
Look out for the companion book: The World of Robert Jordan's The Wheel of Time
Additional information
| | |
| --- | --- |
| Weight | 0.54 kg |
| Dimensions | 19.8 × 12.6 × 5.4 cm |
| Author | |
| Publisher | |
| Imprint | |
| Cover | Paperback |
| Pages | 816 |
| Language | English |
| Edition | |Reprint |
| Dewey | 813.6 (edition:23) |
| Readership | General – Trade / Code: K |