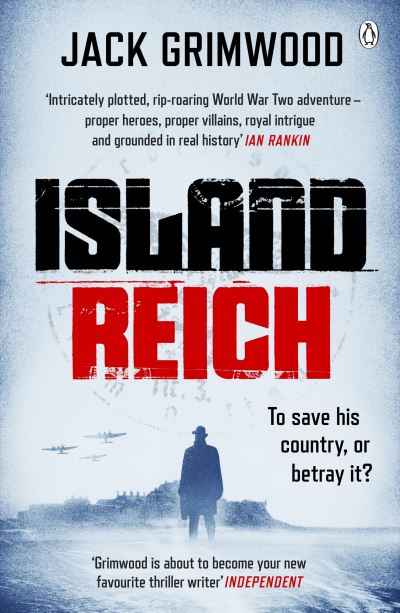 July 1940. As Britain braces itself for invasion, ex-Tommy and safecracker Bill O'Hagan is glad to have escaped the battlefield. But when a job goes wrong, he finds himself forced to serve his country once more. Spurned by his government and fearing for his life, the Duke of Windsor flees to Portugal with the woman for whom he abdicated the throne, Wallis Simpson. As a web of Nazi trickery threatens to ensnare him, his fate and the fate of Britain rest on one man. Dropped on an occupied Channel Island without backup, Bill must crack an enemy safe and get its contents to safety. Failure will devastate any hope Britain has of winning the war. But with the layers of deception and intrigue drawing ever more tightly around them, Bill and the Duke both learn they aren't the only players in this game. And Berlin – which has the Duke in its own sights – is plotting its greatest move yet.
The rich, atmospheric WWII thriller from the award-winning author of Moskva and Nightfall Berlin, perfect for fans of Simon Scarrow's BLACKOUT
'Intricately plotted, rip-roaring World War Two adventure - proper heroes, proper villains, royal intrigue and grounded in real history' IAN RANKIN
_________
July, 1940. The Nazis launch their invasion of Britain - starting with the Channel Islands . . .
And soldier turned safecracker Bill O'Hagan gets an offer: hang for his crimes, or serve his country.
The mission - land on occupied Alderney, impersonate a local, steal the invasion plans, escape. He almost believes they're not lying to him.
In Portugal, the former King, Edward, Duke of Windsor, receives an altogether different proposal from Germany: ease the invasion and he'll get his throne back. But Edward will not readily betray his country . . .
An embittered former king. An unreformed thief.
And a secret upon which the fates of nations lie . . .
_________
'Fact and fiction merge in a rip-roaring yarn that is totally credible. Excellent' SUN
'Triumphant . . . The synthesis of real and fictitious characters is handled with panache by the talented Grimwood' FINANCIAL TIMES
'Top notch . . . the suspense never wavers' CRIMETIME
'Grimwood matches Robert Harris, Joseph Kanon, Ken Follett and John le Carré thrill for thrill in this breath-taking WWII story of atmospheric suspense, daring espionage and political intrigue' GLASGOW LIFE
'Highly entertaining . . . There are complications, twists and turns of plot in abundance. Every bit as credible or satisfying as James Bond' SCOTSMAN
Additional information
| | |
| --- | --- |
| Weight | 0.359 kg |
| Dimensions | 19.8 × 12.9 × 3.2 cm |
| Author | |
| Publisher | |
| Imprint | |
| Cover | Paperback |
| Pages | 400 |
| Language | English |
| Edition | 1st paperback ed |
| Dewey | 823.92 (edition:23) |
| Readership | General – Trade / Code: K |