12 Birds to Save Your Life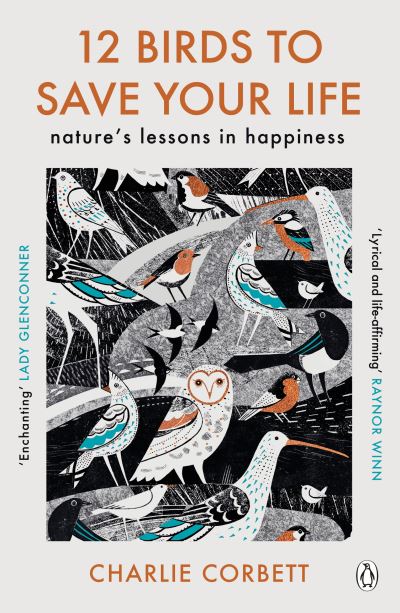 12 Birds to Save Your Life
At a time of great anxiety and uncertainty, while coping with the untimely death of his mother, Charlie Corbett realised his perspective on life was slipping. In a moment of despair, he found himself – somewhat damp – lying on the side of a lonely hill staring up at a leaden sky, a melancholy drizzle seeping into his bones. Suddenly he hears the song of a single skylark – that soaring, tinkling, joyous sound – and he is transported away from the drizzle and dark thoughts. Grounded by the beauty of nature, perspective dawns. No longer the leading role in his own private melodrama, but merely a minor part in nature's great epic. Such is the power of these creatures to raise you from life's periodic depths. Through twelve characterful birds, Charlie show us that there is joy to be found in the very smallest of events – if we know where to look, and how to listen.
Discover the healing power of nature through the stories of these characterful birds, whose song is never far away . . .
'A lyrical and life-affirming book that teaches us as much about birds as it does ourselves - a balm for the soul' Raynor Winn, author of The Salt Path
'Totally absorbing and completely engaging on so many levels . . . Charlie has opened my eyes to the constant joy of the sights and sounds of the birds that surround us. It is a book that really will save lives' Dr Richard Shepherd, author of Unnatural Causes
_________
After the tragic loss of his mother, Charlie Corbett felt trapped by his pain. Having lost all hope and perspective he took to the countryside in search of solace. There, he heard the soaring, cascading song of the skylark - a sound that pulled him from the depths of despair and into the calm of the natural world.
Weaving his journey through grief with a remarkable portrait of the birds living right on our doorstep, 12 Birds to Save Your Life is an invitation to stop, step outside, and listen.
By following Charlie's path, opening your eyes and ears to what has been there all along, you will discover how nature can set you free.
Additional information
| | |
| --- | --- |
| Weight | 0.214 kg |
| Dimensions | 19.8 × 12.9 × 1.8 cm |
| Author | |
| Publisher | |
| Imprint | |
| Cover | Paperback |
| Pages | 208 |
| Language | English |
| Edition | |
| Dewey | 598.1594 (edition:23) |
| Readership | General – Trade / Code: K |