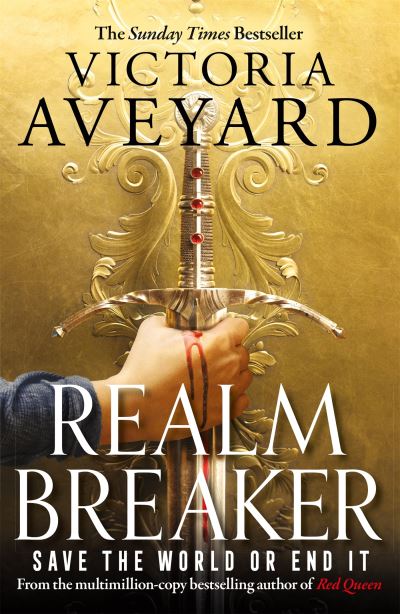 Who is left when the heroes fall? Corayne lives at the end of the world. Year after year, she watches her pirate mother sail away to adventures she'll never share with Corayne. So when a mysterious immortal and deadly assassin appear on Corayne's doorstep telling her she is the last member of a dying bloodline, and the only one who can save the world, Corayne seizes the chance to have her own adventure. But the world is in graver danger than they ever imagined; Corayne and her rag-tag group of allies are alone in a world that is slowly coming apart at the seams with little but their fading hope to guide them. Now is not the age of heroes, but courage can bloom even in the darkest corners. And it just might be enough to save everything.
FROM THE BESTSELLING AUTHOR OF RED QUEEN COMES A BRAND NEW SERIES
SAVE THE WORLD OR END IT...
A strange darkness is growing in the Ward. Even Corayne an-Amarat can feel it, tucked away in her small town at the edge of the sea.
Fate knocks on her door, in the form of a mythical immortal and a lethal assassin, who tell Corayne that she is the last of an ancient lineage - with the power to save the world from destruction.
Because a man who would burn kingdoms to the ground is raising an army unlike any seen before, bent on uprooting the foundations of the world. With poison in his heart and a stolen sword in his hand, he'll break the realm itself to claim it. And only Corayne can stop him.
Alongside an unlikely group of reluctant allies, Corayne finds herself on a desperate journey to complete an impossible task, with untold magic singing in her blood and the fate of the world on her shoulders.
Additional information
| | |
| --- | --- |
| Weight | 0.398 kg |
| Dimensions | 19.8 × 12.8 × 4.6 cm |
| Author | |
| Publisher | |
| Imprint | |
| Cover | Paperback |
| Pages | 568 |
| Language | English |
| Edition | 1st paperback ed |
| Dewey | 813.6 (edition:23) |
| Readership | General – Trade / Code: K |