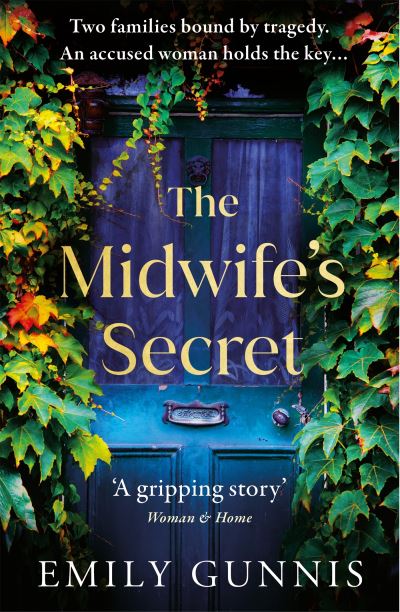 She shone the torch around and spotted some names written in the wall: Clara, Sara, Megan. Who were these girls and what had they been doing in there? She slowly clicked open the trunk and as she shone her torch in, something caught her eye. In the corner, a leather-bound book. She opened it on the first page: 'Bella James, Patient Notes'. She began to read.
The gripping, heartwrenching story of a girl gone missing and an innocent, accused woman who holds the key to a family secret, from the global bestselling author of THE GIRL IN THE LETTER.
'Hugely addictive, full of twists, turns and betrayal' Heat
'I really loved it! Tense, emotionally charged' Jenny Ashcroft
'Spellbindingly good! Heartbreak, intrigue, mystery *****' Real reader
'One of the best books I've read this year! I adored every single page *****' Real reader
__________
It all began with a midwife's secret, long buried but if uncovered could save two families from the bitter tragedy that binds them. And prove the key that will free them all...
1969 On New Year's Eve, while the Hiltons of Yew Tree Manor prepare to host the party of the season, their little girl disappears. Suspicion falls on Bobby James, a young farmhand and the last person to see Alice before she vanished. Bobby protests his innocence, but he is sent away. Alice is never found.
Present day Architect Willow James is working on a development at Yew Tree when she discovers the land holds a secret. As she begins to dig deep into the past, she uncovers a web of injustice. And when another child goes missing, Willow knows the only way to stop history repeating itself is to right a terrible wrong...
'A gripping story' Woman & Home
'A heart-wrenching story of love, loyalty and family secrets. Reminded me of Kate Morton and Eve Chase *****' Fictionophile
'Compelling, twisty, heart-wrenching... A novel that stays with you. I was gripped' Sophie Kinsella on The Girl in the Letter
ARE YOU READY TO DISCOVER THE MIDWIFE'S SECRET? READERS ARE SPELLBOUND:
'One of my favourites this year' Beauty Balm blog
'The story was stunning and heartbreaking. I went to bed at 2am! Can't wait for the next book *****'
'Wow! What a powerful book. This had me hooked from the start. The story spans generations and tells of lies, grief and secrets. It was extremely well written and had you guessing right to the end. Loved the characters and couldn't put this book down. *****'
'A real heart-pounder! It had intrigue, suspense and lots of twists and turns!! Definitely some jaw-dropping moments! I highly recommend reading this book! *****'
Your favourite authors adore Emily Gunnis's bestselling novels:
'Utterly gripping, taut and powerful. An emotionally charged, compulsive, moving novel *****' Adele Parks
'A great book, truly hard to put down. Fast paced, brilliantly plotted and desperately sad at times - all hallmarks of a bestseller' Lesley Pearse
'A truly brilliant and moving read. I loved it' Karen Hamilton
'Captivating and suspenseful' Jessica Fellowes
'Loss, betrayal and a decades-old secret... BRILLIANT' Heat magazine
Additional information
| | |
| --- | --- |
| Weight | 0.28 kg |
| Dimensions | 19.6 × 12.8 × 3.6 cm |
| Author | |
| Publisher | |
| Imprint | |
| Cover | Paperback |
| Pages | 384 |
| Language | English |
| Edition | 1st paperback ed |
| Dewey | 823.92 (edition:23) |
| Readership | General – Trade / Code: K |