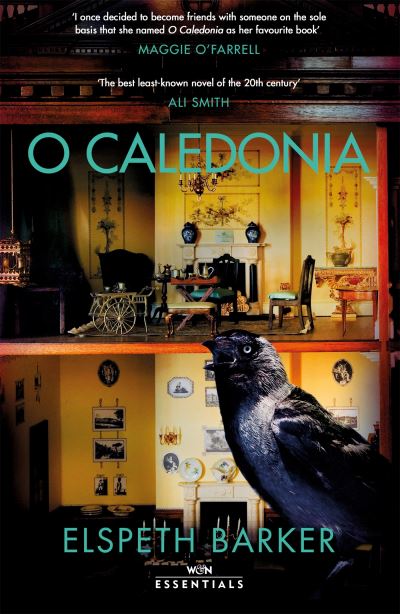 Janet lies murdered beneath the castle stairs, oddly attired in her mother's black lace wedding dress, lamented only by her pet jackdaw. In this, her first novel, Elspeth Barker evokes the unrelenting chill of Calvinism and the Scottish climate; it's a world of isolation and loneliness, where Barker's young protagonist turns ncreasingly to literature, nature, and her risque Aunt Lila, who offer brief flashes of respite in an otherwise dank and foreboding life. People, birds and beasts move in a gleeful danse macabre through the lowering landscape in a tale that is as rich and atmospheric as it is witty and mordant.
'I once decided to become friends with someone on the sole basis that she named O Caledonia as her favourite book' Maggie O'Farrell
'A sparky, funny work of genius and one of the best least-known novels of the 20th Century' Ali Smith
'Funny, surprising, exquisitely written and brilliant on the smelly, absurd, harsh business of growing up. The Brontë sisters and Poe via Dodie Smith and Edward Gorey' David Nicholls
'An absolute sumptuous treat of a book' Elizabeth Macneal
'A wonderful oddity - brief, vivid, eccentric, written with ferocious zest and black humour' Penelope Lively
'The words sing in their sentences' The Times
'The reader feels unalloyed joy on every page' Independent

Vera was painting the pony's hooves gold in the dining room; Janet said this was bad for him; poison would seep into his bloodstream.
At the bottom of a great stone staircase, dressed in her mother's black lace evening dress, twisted in murderous death, lies Janet. So end the sixteen years of Janet's short life.
A life spent in a draughty Scottish castle, where roses will not grow, and a jackdaw decides to live in the doll's house.
A life peopled by prettier, smoother-haired siblings, a Nanny with a face like the North Sea and the peculiar, whisky-swigging Cousin Lila.
A life where Janet is perpetually misunderstood - and must turn from people, to animals, to books, to her own wild and wonderful imagination.
WITH AN INTRODUCTION BY MAGGIE O'FARRELL
Additional information
| | |
| --- | --- |
| Weight | 0.2 kg |
| Dimensions | 20 × 12.6 × 2 cm |
| Author | |
| Publisher | |
| Imprint | |
| Cover | Paperback |
| Pages | 224 |
| Language | English |
| Edition | |Reprint |
| Dewey | 823.914 (edition:23) |
| Readership | General – Trade / Code: K |