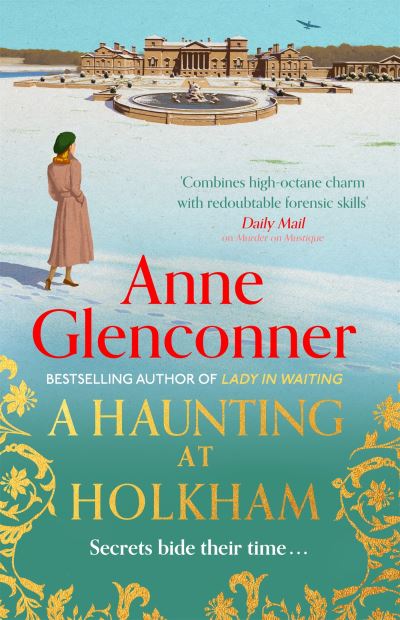 It's Christmas 1943 and Lady Anne Coke has returned to Holkham Hall from Scotland. But her home is now an army base, with large sections out of bounds. And 11-year-old Anne is in the care of a new governess, whom she hates and believes to be hiding something. At least her beloved grandfather is there with her, to share stories and keep her entertained. But even though she's been told to stay away from certain parts of the house, Anne knows secrets about the hall that others do not; the passageways and the cellars that allow her to move around unnoticed, watching. And when mysterious events lead to a murder and disappearance, Anne is determined to uncover the truth.
'[A] winning, well-plotted read... the mystery's denouement at the dance makes a glamorous and dramatic conclusion' Daily Mail
'A breezily entertaining read from the author of Lady In Waiting, with clever plotting and a beautiful setting' Sunday Express
'Clever plotting' Daily Mirror
The thrilling new novel from the acclaimed author of Murder on Mustique and Lady in Waiting.
January 1950. Lady Anne Coke, daughter of the 5th Earl of Leicester, is in Scunthorpe on a business trip when she is called home after a sudden death in the family. She returns to Holkham Hall to discover a mystery: her beloved grandfather has been found dead at the bottom of a flight of stairs with a valuable piece of jewellery in his pocket. No one can find a cause of death, and some even suspect foul play from the ghost who supposedly haunts the house. But Anne's suspicions are aroused; she grew close to her grandfather when they lived together during the war and she is determined to discover the truth.
During World War II, Holkham Hall was an army base with large sections out of bounds, and 11-year-old Anne was in the care of a new governess, whom she hated and believed to be deceitful. Although she had been told to stay away from certain parts of the house, Anne used the secret passageways and the cellars to move around unnoticed. And something she saw then could unlock the mystery of her grandfather's death now ...
Full of rich historical detail, this is a gripping novel of wartime secrets, intrigue and deceit.
Additional information
| | |
| --- | --- |
| Weight | 0.57 kg |
| Dimensions | 23.8 × 16 × 4 cm |
| Author | |
| Publisher | |
| Imprint | |
| Cover | Hardback |
| Pages | 337 |
| Language | English |
| Edition | Hardback original |
| Dewey | 823.92 (edition:23) |
| Readership | General – Trade / Code: K |