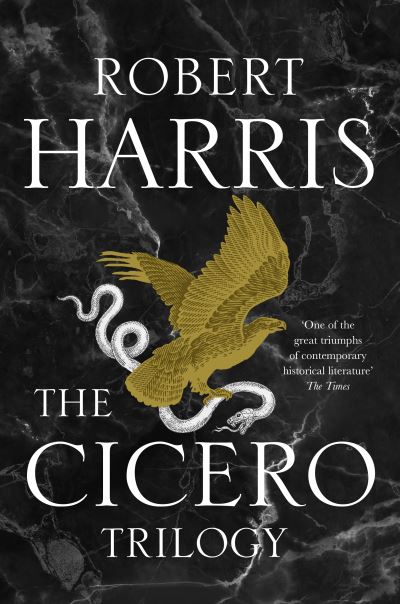 Compellingly written in Tiro's voice, 'Imperium' takes us inside the violent, treacherous world of Roman politics, to describe how one man – clever, compassionate, devious, vulnerable – fought to reach the top. From the discovery of a child's mutilated body, through judicial execution and a scandalous trial, to the brutal unleashing of the Roman mob, 'Lustrum' is a study in the timeless enticements and horrors of power. Riveting and tumultuous, 'Dictator' encompasses some of the most epic events in human history yet is also an intimate portrait of a brilliant, flawed, frequently fearful yet ultimately brave man – a hero for his time and for ours.
______________________________
'One of the great triumphs of contemporary historical literature.' The Times
______________________________
WITH A NEW INTRODUCTION BY THE AUTHOR
'Laws are silent in times of war.' Cicero
One of the great epics of political and historical fiction, The Cicero Trilogy charts the career of the Roman statesman Marcus Tullius Cicero from his mid-twenties as an ambitious young lawyer to his dramatic death more than thirty years later, pursued by an assassination squad on a cliff-top path.
The extraordinary life that unfolds between these two episodes is recounted by Cicero's private secretary, Tiro: the law cases and the speeches that made his master's name; the elections and conspiracies he fought; the rivals who contended for power around him - Pompey, Crassus, Cato, Clodius, Catalina, and, most menacingly, Caesar; and, at the heart of it all, the complex personality of Cicero himself - brilliant, cunning, duplicitous, anxious, brave, and always intensely humane.
More than ten years in the writing, and now published in a single volume for the first time, The Cicero Trilogy brings the world of the Roman republic vividly to life. Here is its grandeur, ambition and corruption; and here is its tumultuous collapse into dictatorship and anarchy - a story of the fragility of democratic institutions that holds a warning for our own time.
Additional information
| | |
| --- | --- |
| Weight | 1.231 kg |
| Dimensions | 24 × 16.2 × 6 cm |
| Author | |
| Publisher | |
| Imprint | |
| Cover | Hardback |
| Pages | 1360 |
| Language | English |
| Edition | |Omnibus ed |
| Dewey | 823.92 (edition:23) |
| Readership | General – Trade / Code: K |