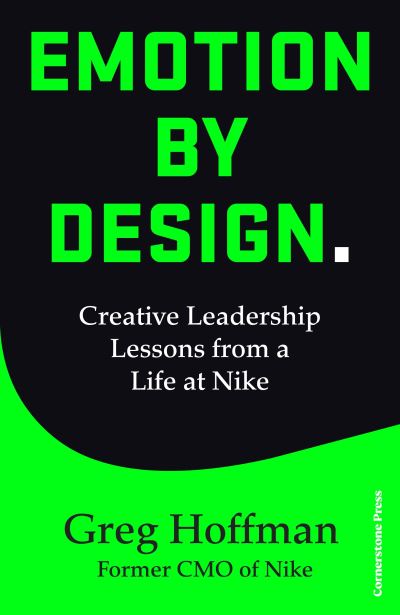 For decades, Nike's campaigns have been so radically creative that they make an indelible mark on the public imagination – and, just sometimes, change how the world thinks. It's an art form that Greg Hoffman understands better than anyone. Over 30 years at Nike, he crafted some of the most iconic campaigns in history: from Colin Kaepernick's 'Dream Crazy' ad, to the instantly recognisable logos used by Roger Federer and Serena Williams. By the end of his career, he was Chief Marketing Officer – responsible for maintaining the brand recognition of the Nike swoosh everywhere on Earth. Now, Hoffman reveals the simple principle that Nike uses to power their creativity: emotion by design. Combining scientific analysis and artistic daring, emotion by design helps Nike forge deep personal bonds with their customers – crafting campaigns that chime with people's most audacious dreams.
Nike's former Chief Marketing Officer reveals how to unlock the creativity of any team
'Reading this book made me smile in my soul, proving that creativity, community and empathy has created one of the greatest brands of our lifetime' Mary Portas
'A brand isn't a logo, it's a story. In this guidebook-plus-memoir, Greg Hoffman helps us see how a commitment to our creative practice can make any story better.' Seth Godin
__
Creativity. It's the rocket-fuel that powers the planet's coolest brand, ensuring that Nike's campaigns connect with the deepest emotions of customers around the world.
Creativity. It's the downfall of countless companies every year - its absence leading to tired ideas, predictable branding, bored customers.
Creativity. It's a skill that can be learnt, just like any other.
Join Greg Hoffman, Nike's former Chief Marketing Officer, as he helps craft the company's iconic campaigns for Ronaldo and Serena, Olympic Games and World Cup finals. Together, his insights offer a revelatory method that will make any brand more creative: emotion by design.
__
'An unforgettable account of a man and a business that never had to try to be someone else's idea of cool - because they had already defined it themselves.' Rory Sutherland, Vice-Chairman of Ogilvy and author of Alchemy
'Will help marketers and creatives connect with their audiences like never before. Highly recommended.' Professor Jonah Berger, author of Contagious
'Brilliant . . . A must-read for any marketer, businessperson or creative.' Nir Eyal, author of Hooked
Additional information
| | |
| --- | --- |
| Weight | 0.517 kg |
| Dimensions | 24 × 16.2 × 2.9 cm |
| Author | |
| Publisher | |
| Imprint | |
| Cover | Hardback |
| Pages | 320 |
| Language | English |
| Edition | |
| Dewey | 745.4 (edition:23) |
| Readership | College – higher education / Code: F |