Unexpected Joy of Being Single: Locating happily-single serenity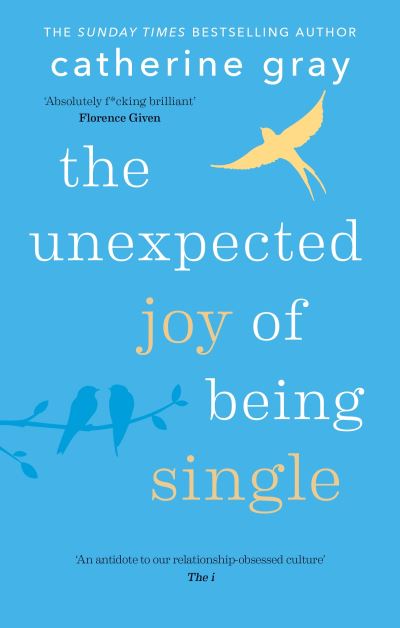 Unexpected Joy of Being Single: Locating happily-single serenity
Over a third of us are now single. With the single camp growing at ten times the rate of the actual population, it is now the norm to be single well into our thirties – the average marriage age for women is 35 and 37 for men. But nobody seems to have told society, romcom makers, songwriters, marriage-hungry mothers, 'tick-tock' uncles, our mates or us that. Cue: single anxiety. Spending hours scrolling through dating apps. Being inconsolable when he/she doesn't text. Catherine Gray went through all of this. She took a year off dating to get her love-hooked head straight. How do we chill our boots about our single status and de-programme from urgent, red, heart-shaped societal pressure to find your 'other half'? We know intellectually that single is far preferable to panic-settling, yet we forget that almost constantly. Let's start the reverse-brainwash and locate our happily-single sanity.
* 'This refreshing, unusual book needs to exist. A culture shift which repositions a single person as someone who is relationship-free, complete, and not lacking is long overdue.' - The i *
* 'Absolutely f*cking brilliant' - Florence Given *
Having a secret single freak-out? Feeling the red, heart-shaped urgency intensify as the years roll on by? Oh hi! You're in the right place.
Over half of Brits aged 25-44 are now single. It's become the norm to remain solo until much later in life, given the average marriage ages of 35 (women) and 38 (men). Many of us are choosing never to marry at all.
But society, films, song lyrics and our parents are adamant that a happy ending has to be couple-shaped. That we're incomplete without an 'other half'*, like a bisected panto pony. Cue: single sorrow. Dating like it's a job. Spending half our lives waiting for somebody-we-fancy to text us back. Feeling haunted by the terms 'spinster' or 'confirmed bachelor.'
Catherine Gray took a whole year off dating to find single satisfaction. She lifted the lid on the reasons behind the global single revolution, explored the bizarre ways cultures single-shame, detached from 'all the good ones are gone!' panic and debunked the myth that married people are much happier.
Let's start the reverse brainwash, in order to locate - and luxuriate in - single happiness. Are you in?
*Spoiler: you're already whole
PRAISE FOR CATHERINE GRAY'S WRITING:
"Fascinating." Bryony Gordon
"Not remotely preachy." The Times
"Jaunty, shrewd and convincing." The Telegraph
"Admirably honest, light, bubbly and remarkably rarely annoying." The Guardian
"Truthful, modern and real." Stylist
"Brave, witty and brilliantly written." Marie Claire
"Haunting, admirable and enlightening." The Pool
Additional information
| | |
| --- | --- |
| Weight | 0.24 kg |
| Dimensions | 19.6 × 12.6 × 2.8 cm |
| Author | |
| Publisher | |
| Imprint | |
| Cover | Paperback |
| Pages | 272 |
| Language | English |
| Edition | |
| Dewey | 306.815092 (edition:23) |
| Readership | General – Trade / Code: K |