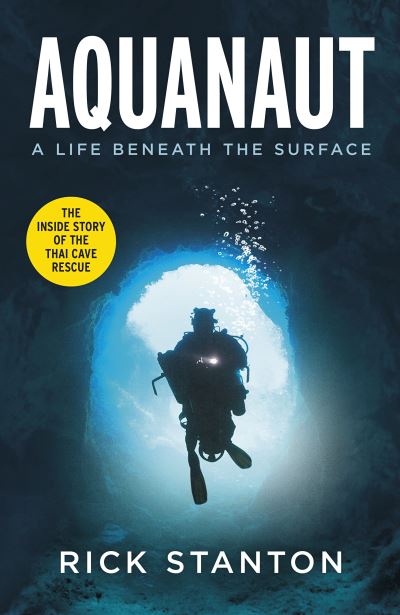 The enthralling autobiography of cave-diver Rick Stanton, who played a key role in the 2018 Tham Luang cave rescue.
THE ENTHRALLING INSIDE STORY OF THE THAI CAVE RESCUE NOW CHRONICLED IN NATIONAL GEOGRAPHIC HIT DOCUMENTARY THE RESCUE
WRITTEN BY THE MAN AT THE HEART OF THE MISSION
'The British divers are all heroes' Clive Cussler
'A case study in courage' Ron Howard, Oscar-winning director of Apollo 13
________
'They were utterly alone inside the mountain, isolated from the rest of the world. They might as well have been on another planet . . .'
In July 2018, twelve boys and their football coach disappeared into Tham Luang Cave in Thailand.
Trapped miles beneath the surface, not even the Thai Navy SEALs had the skills to bring them to safety. With the floodwater rising rapidly, time was running out . . .
Any hope of survival rested on Rick Stanton, a retired Midlands firefighter with a living room full of homemade cave-diving equipment. As unlikely as it seemed, to those in the know, Rick and his partner, John Volanthen, were regarded as the A-team for exactly this kind of mission.
The Thai Cave Rescue was the culmination of a lifelong obsession, requiring every ounce of skill and ingenuity accumulated by Rick over a four decade pursuit of the unknown.
While the world held its breath, Rick, John and their assembled team raced against time in the face of near impossible odds. There was simply no precedent for what they were attempting to do . . .
In Aquanaut Rick reveals the real story of the cave rescue for the first time. And of a life lived without compromise in which any mistake could have been his last. It's an edge-of-your-seat story of courage and conviction that will take you deep into the most remote and unforgiving places on the planet, told with humour, unflinching honesty, and a relentless drive for adventure.
________
'Diver Rick Stanton relives the rescue of the century' SUNDAY TIMES

'This is their riveting, behind-the-scenes story. Captivating' SUNDAY POST
THE RESCUE WATCHED BY THE WORLD
'The Thai cave rescue was phenomenally dangerous, and the work of true heroes' iNews
'[The rescue] was fantastic, it really was . . .' HRH Prince William
'If it was me stuck anywhere, the one person I would want to come and rescue me is Rick Stanton' Alex Daw, Watch Commander, West Midlands Fire Service
'One of the great stories of our time' Elizabeth Chai Vasarhelyi, Oscar-winning co-director of Free Solo
'Rick Stanton is not the most domesticated of men' Sunday Telegraph
Additional information
| | |
| --- | --- |
| Weight | 0.685 kg |
| Dimensions | 24 × 16.2 × 3.9 cm |
| Author | |
| Publisher | |
| Imprint | |
| Cover | Hardback |
| Pages | 400 |
| Language | English |
| Edition | |
| Dewey | 796.525092 (edition:23) |
| Readership | General – Trade / Code: K |