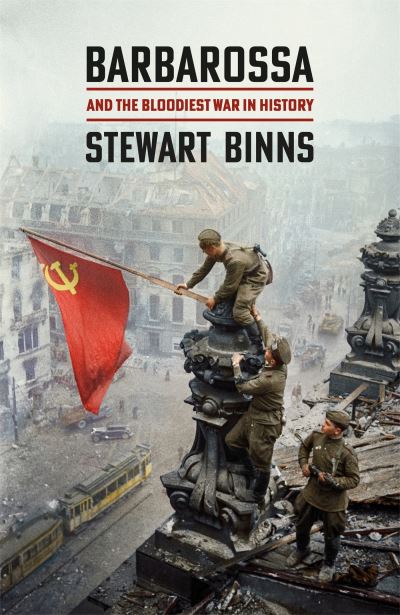 Sunday June 22nd 1941. 6 million Nazi troops marched on Moscow, with a brutal scorched-earth tactic that saw millions of Soviet citizens massacred. A level of brutality only paralleled after the Soviet's triumphed at Stalingrad, and took mindless revenge as they marched back into Berlin. Beginning with Operation Barbarossa, the German invasion of the Soviet Union in June 1941, to the appalling circumstances of the Fall of Berlin in April 1945 and told from the perspective of the people of Russia and Eastern Europe, this is a heartrending story of tragedy, suffering and heroism. Stewart Binns draws on Russian archives to paint a uniquely intimate picture of the war from the Soviet side of this terrible conflict.
Drawing on remarkable and never-before-seen material, the extraordinary story of one of the most horrific and devastating encounters of the Second World War.
On June 22nd, 1941 the largest military invasion in human history was launched - an attack on the Soviet Union by almost four million men of Nazi Germany's brutal war machine.
Operation Barbarossa led to the bloodiest military campaign mankind has ever known. The statistics of death and destruction are almost impossible to believe. The cruelty, suffering and destitution it wrought are unimaginable . . . over forty million people lost their lives.
Yet, the real story of the Eastern Front is still not truly understood outside of Germany and Eastern Europe. Little is known of those who suffered in the horror of Hitler's 'War of Annihilation' - the soldiers and civilians of Eastern Europe who fought and died trying to save their homelands and their loved ones.
In Barbarossa, Stewart Binns tells the story of how they lived and survived, and how, once the tide had turned, they exacted an appalling revenge on the Nazi aggressors. This is the story of the bloodiest war in history.
'This is a truly astounding book, packed with searing hitherto-unpublished testimony about what it was like to endure, and ultimately defeat, the most formidable invasion in the history of Mankind.' - Andrew Roberts, author of CHURCHILL: WALKING WITH DESTINY
'A masterful narrative, deeply enriched by extraordinary research and a profound analysis of the soul of Russia.' - Nick Hewer
Additional information
| | |
| --- | --- |
| Weight | 0.68 kg |
| Dimensions | 23.6 × 16 × 4 cm |
| Author | |
| Publisher | |
| Imprint | |
| Cover | Hardback |
| Pages | xxxv, 378 , 16 unnumbered of plates |
| Language | English |
| Edition | |
| Dewey | 940.54217 (edition:23) |
| Readership | General – Trade / Code: K |