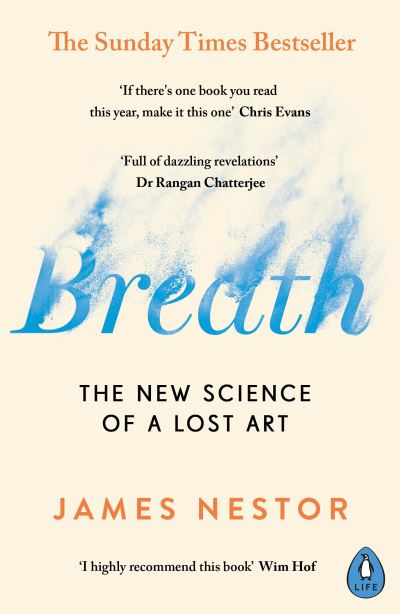 300,000 years ago, Homo sapiens had bigger skulls. Cooked food meant our heads shrunk; alongside a growing brain, our airways got narrower. Urbanisation then led us to breathe less deeply and less healthily. And so today more than 90% of us breathe incorrectly. So we might have been breathing all our life, but we need to learn how to breathe properly! Here, James Nestor meets cutting-edge scientists at Harvard and experiments on himself in labs at Stanford to see the impact of bad breathing. He revives the lost, and recently scientifically proven, wisdom of swim coaches, Indian mystics, stern-faced Russian cardiologists, Czechoslovakian Olympians and New Jersey choral conductors – the world's foremost 'pulmonauts' – to show how breathing in specific patterns can trigger our bodies to absorb more oxygen, and he explains the benefits for everyone that result.
THE SUNDAY TIMES BESTSELLER - AND THE BOOK WE'LL BE GIFTING TO EVERY FAMILY MEMBER AND FRIEND THIS CHRISTMAS!
SHORTLISTED FOR THE ROYAL SOCIETY BOOK PRIZE

'Who would have thought something as simple as changing the way we breathe could be so revolutionary for our health, from snoring to allergies to immunity? A fascinating book, full of dazzling revelations' Dr Rangan Chatterjee
There is nothing more essential to our health and wellbeing than breathing: take air in, let it out, repeat 25,000 times a day. Yet, as a species, humans have lost the ability to breathe correctly, with grave consequences. In Breath, journalist James Nestor travels the world to discover the hidden science behind ancient breathing practices to figure out what went wrong and how to fix it.
Modern research is showing us that making even slight adjustments to the way we inhale and exhale can:
- jump-start athletic performance
- rejuvenate internal organs
- halt snoring, allergies, asthma and autoimmune disease, and even straighten scoliotic spines
None of this should be possible, and yet it is. Drawing on thousands of years of ancient wisdom and cutting-edge studies in pulmonology, psychology, biochemistry and human physiology, Breath turns the conventional wisdom of what we thought we knew about our most basic biological function on its head.
You will never breathe the same again.
Additional information
| | |
| --- | --- |
| Weight | 0.213 kg |
| Dimensions | 19.8 × 12.9 × 1.8 cm |
| Author | |
| Publisher | |
| Imprint | |
| Cover | Paperback |
| Pages | 336 |
| Language | English |
| Edition | |
| Dewey | 613.192 (edition:23) |
| Readership | General – Trade / Code: K |