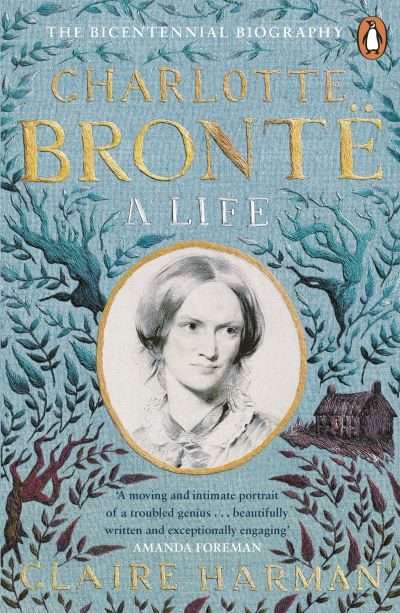 Charlotte Bronte's life contained all the drama and tragedy of the great Gothic novels it inspired. She was raised motherless on remote Yorkshire moors and sent away to brutally strict boarding school at a young age. She watched helpless growing up as, one by one, her five beloved siblings sickened and died; by the end of her short life, she was the only child of the Brontë clan remaining. And most fascinating and tragic of all, throughout her adult life she was haunted by a great and unrequited love – a love that tortured Charlotte but also inspired some of the most moving, intense and revolutionary novels ever written in the English language. Charlotte was a literary visionary, a feminist trailblazer and the driving force behind the whole Brontë family.
The definitive biography of an extraordinary novelist, by acclaimed literary biographer Claire Harman
'There was no possibility of taking a walk that day . . .' With these words Charlotte Brontë began Jane Eyre and changed English literature irrevocably.
Claire Harman's landmark biography provides a bold new view of one of Britain's best loved writers, uncovering an inner life that touched the furthest extremes of human emotion.
Harman shows us an intense and troubled young woman from an astonishingly creative family, whose early works were produced in total secrecy. Struggling against the conventional limitations of both life and literature, Charlotte created a new kind of heroine which both shocked and inspired her Victorian contemporaries. Love, loss, ambition and heartbreak: the anonymous author poured everything into her ground-breaking books, but lived it first.
'Harman [is] a master-storyteller in her own right. Her account of Bronte's life is a level-headed, highly readable and always intelligent. A delight from start to finish' Sunday Times
'Subtle, measured. Full of insight into Bronte's fiery intellect as well as the tragic intensity of her experience' Helen Dunmore, Observer
'Three rounds of applause... a superb retelling of Charlotte's story' Mark Bostridge, Spectator
Additional information
| | |
| --- | --- |
| Weight | 0.343 kg |
| Dimensions | 19.8 × 12.9 × 2.8 cm |
| Author | |
| Publisher | |
| Imprint | |
| Cover | Paperback |
| Pages | xii, 446 , 16 unnumbered of plates |
| Language | English |
| Edition | |
| Dewey | 823.8 (edition:23) |
| Readership | General – Trade / Code: K |