Georges Marvellous Medicine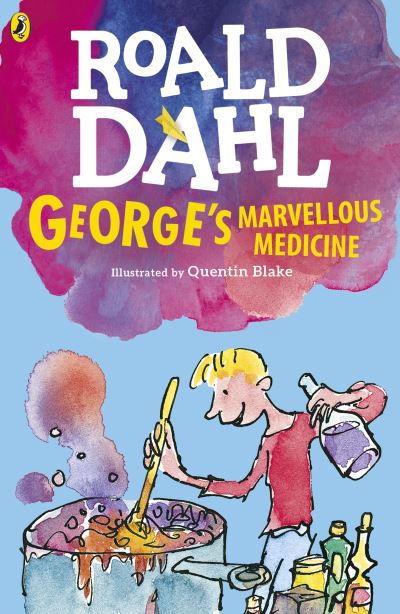 Georges Marvellous Medicine
This is a funny story which tells the tale of George and his Grandma. When he can't stand her bad habits any longer, he decides to cure her nastiness for good. He concocts a very special medicine which is as nasty as she is – with explosive results.
'A true genius . . . Roald Dahl is my hero' - David Walliams

WARNING: DO NOT try to make George's Marvellous Medicine yourselves at home. It could be dangerous...

George Kranky's Grandma is a miserable grouch. George really hates that horrid old witchy woman.
One Saturday morning, George is in charge of giving Grandma her medicine. So-ho! Ah-ha! Ho-hum! George knows exactly what to do.
A magic medicine it will be! One that will either cure her completely of her horrible grouchiness . . . or blow off the top of her head!
Roald Dahl is the world's NUMBER ONE storyteller!

Now you can listen to GEORGE'S MARVELLOUS MEDICINE and other Roald Dahl audiobooks read by some very famous voices, including Kate Winslet, David Walliams and Steven Fry - plus there are added squelchy soundeffects from Pinewood Studios!
Additional information
| | |
| --- | --- |
| Weight | 0.109 kg |
| Dimensions | 19.8 × 12.9 × 0.7 cm |
| Author | |
| Publisher | |
| Imprint | |
| Cover | Paperback |
| Pages | 98 |
| Language | English |
| Edition | |Reprint |
| Dewey | 823.914 (edition:23) |
| Readership | Children – juvenile / Code: J |