Good Economics For Hard Times: Better Answers To Our Biggest Problems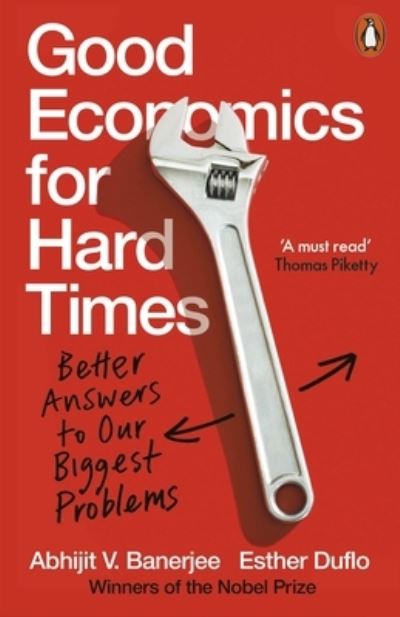 Good Economics For Hard Times: Better Answers To Our Biggest Problems
The experience of the last decade has not been kind to the image of economists: asleep at the wheel (perhaps with the foot on the gas pedal) in the run-up to the great recession, squabbling about how to get out of it, tone-deaf in discussions of the plight of Greece or the Euro area; they seem to have lost the ability to provide reliable guidance on the great problems of the day. In this ambitious, provocative book Abhijit V. Banerjee and Esther Duflo show how traditional western-centric thinking has failed to explain what is happening to people in a newly globalised world: in short Good Economics has been done badly.
FROM THE WINNERS OF THE 2019 NOBEL PRIZE IN ECONOMICS

'Wonderfully refreshing . . . A must read' Thomas Piketty
In this revolutionary book, prize-winning economists Abhijit V. Banerjee and Esther Duflo show how economics, when done right, can help us solve the thorniest social and political problems of our day. From immigration to inequality, slowing growth to accelerating climate change, we have the resources to address the challenges we face but we are so often blinded by ideology.
Original, provocative and urgent, Good Economics for Hard Times offers the new thinking that we need. It builds on cutting-edge research in economics - and years of exploring the most effective solutions to alleviate extreme poverty - to make a persuasive case for an intelligent interventionism and a society built on compassion and respect. A much-needed antidote to polarized discourse, this book shines a light to help us appreciate and understand our precariously balanced world.
Additional information
| | |
| --- | --- |
| Weight | 0.303 kg |
| Dimensions | 19.8 × 12.9 × 2.3 cm |
| Author | |
| Publisher | |
| Imprint | |
| Cover | Paperback |
| Pages | x, 402 |
| Language | English |
| Edition | |
| Dewey | 330 (edition:23) |
| Readership | College – higher education / Code: F |