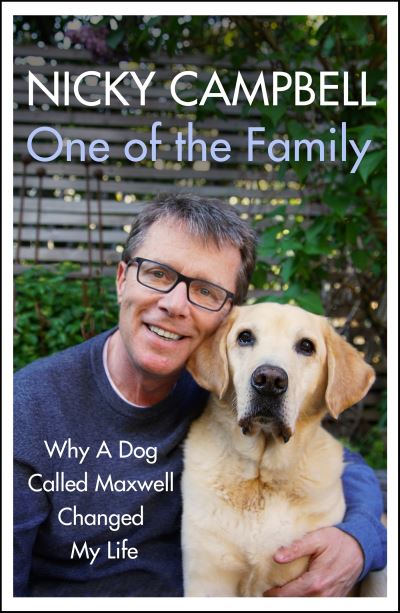 Dogs have been the common link between the key moments in Nicky Campbell's life: there was Toby, the dog he never knew and who sat devotedly by his cot before his adoption, and then adorable fox terrier Candy, who arrived soon after he was happily adopted. Nothing could replace the loss of Candy when he died suddenly, when Nicky was only eleven. Yet it took the arrival of Maxwell, an affectionate Labrador, for Nicky to uncover the simple truth a dog can reveal. The long journey he's been on to cope with the difficult emotions of his adoption, the discovery of his birth parents, his fears of abandonment and the solace he's taken in animals of all kinds, have led Nicky to truly understand the life-changing lesson a dog can teach us: that when we strip away our follies and foibles, the only thing we ever really need in life is love that is given and received freely and unconditionally – just the way a dog does.
THE SUNDAY TIMES BESTSELLER
'A remarkable autobiography'
Andrew Billen, The Times
'You're struck by his raw honesty in tackling big issues head-on'
Tom Bryant, Daily Mirror

'So full of heart'
Davina McCall
'I was riveted by it in a heartbreaking way . . . you will be gripped'
Ranvir Singh, Lorraine
'So moving . . . it's a beautiful book'
Zoe Ball
'Commendable honesty . . . a poignant book about the search for belonging'
Daily Express
'Remarkable . . . contains a lesson for all of us and delivers a resounding message of hope and of love'
James O'Brien
*************

The brave and moving memoir by Long Lost Family presenter and Radio 5 breakfast show host Nicky Campbell reveals how the simple unconditional love of Maxwell, his Labrador, turned his life around and helped him come to terms with his difficult journey as an adopted child.
Raw, honest and courageous in One of the Family, Nicky opens up about how being adopted has made him always feel like an outsider; the guilt he has carried towards his Mum and Dad for needing to trace his birth mother, and the crushing disappointment he felt when he finally met her. And for the first time, he writes about his emotional breakdown and how he has learned to live with a late diagnosis of bipolar.
Through it all his passion for dogs and animals has been a lifeline. It is Maxwell's magic, a lesson from a Labrador in simple unconditional friendship, that has allowed him to see all the good in his life: from the security and safety of his childhood home, the love of his wife and four daughters and above all, to better understand the decisions taken by his birth mother to give him up for adoption.
Additional information
| | |
| --- | --- |
| Weight | 0.432 kg |
| Dimensions | 23.6 × 16.2 × 2.6 cm |
| Author | |
| Publisher | |
| Imprint | |
| Cover | Hardback |
| Pages | 228 |
| Language | English |
| Edition | |
| Dewey | 791.45092 (edition:23) |
| Readership | General – Trade / Code: K |