Research Your Surname and Your Family Tree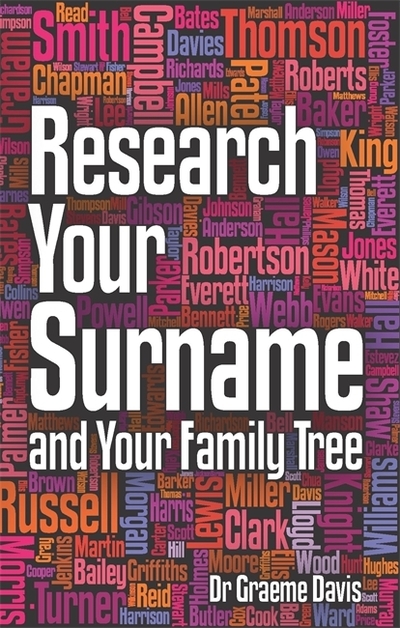 Research Your Surname and Your Family Tree
This book will enable you to find out about your own surname or any other surnames you are interested in: how old it is, where it comes from, what it means and what associations it has today.
Find out what your surname means and trace your ancestors who share it too. Perhaps your surname is that of a Norman who came to Britain after the Battle of Hastings; or a Celtic clan name. Maybe it is an old English trade. It may be distinctive of a particular location. And just possibly you might be related to everyone who bears the name. Find out! Your surname is part of you - so use this book to discover what it really means. This comprehensive book will show you how to research your surname and your family tree, both in earliest and in more recent years. It provides practical activities to investigate the meaning of any British surname. You will discover: - The meaning of your surname - How old it is - Where it comes from - What associations it has today - How to use your surname to trace ancestors You may also be able to take part in a One Name Study or use DNA profiling to make contact with other people who bear your surname and with whom you share distant ancestors.
Contents: The Small Print; 1. Understanding Surnames; 2. Finding out How Surnames Change; 3. Exploring Surname Distribution; 4. One Source or Many?; 5. Working with Occupational Names; 6. Focusing on Place Names; 7. Making Sense of Landscape Names; 8. Working with Patronymics; 9. Taking Care with Nicknames; 10. Working with the Genealogical Approach; 11. Exploring 1066 Names; 12. Understanding Coats of Arms and Surnames; 13. Orphans and Surnames; 14. English Surnames; 15. Welsh Surnames; 16. Scottish Surnames 17. Irish Surnames; 18. Isle of Man Surnames; 19. Channel Island Surnames; 20. Understanding Jewish Surnames of the British Isles; 21. Identifying Gypsy Surnames of the British Isles; 22. British Isles Surnames in Australia and New Zealand; 23. British Isles Surnames in the Americas; 24. Dealing with Extinct Surnames; 25. Investigating DNA Studies; 26. One-Name Studies; 27. Taking Charge of Your Surname; Appendix 1. The 50 Most Common Surnames; General Index; Index of Surnames.
Additional information
| | |
| --- | --- |
| Weight | 0.42 kg |
| Dimensions | 23.4 × 25.4 × 2.4 cm |
| Author | |
| Publisher | |
| Imprint | |
| Cover | Paperback |
| Pages | 213 |
| Language | English |
| Edition | |
| Dewey | 929.42 (edition:22) |
| Readership | General – Trade / Code: K |