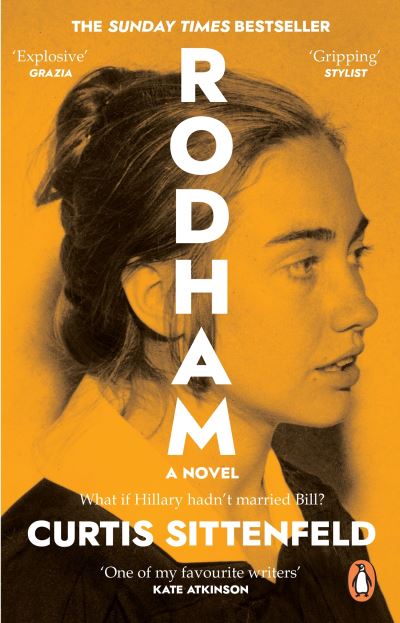 What if Hillary Rodham had turned down Bill Clinton's proposal of marriage? In 'American Wife', Curtis Sittenfeld painted a picture of an ordinary American girl who found herself married to a President – basing it on the life of Laura Bush. In this new novel, she takes another ordinary American girl, Hillary Rodham, and explores how her life might have turned out if she had stayed an independent woman.
'This addictive novel is the SLIDING DOORS of American politics. Gripping' STYLIST
'Startlingly good. One of my favourite writers.' KATE ATKINSON
____________
'Awfully opinionated for a girl' is what they call Hillary as she grows up in her Chicago suburb.
Smart, diligent, and a bit plain, that's the general consensus. Then Hillary goes to college, and her star rises. At Yale Law School, she continues to be a leader- and catches the eye of driven, handsome and charismatic Bill. But when he asks her to marry him, Hillary gives him a firm No.
How might things have turned out for them, for America, for the world itself, if Hillary Rodham had really turned down Bill Clinton?
With her sharp but always compassionate eye, Sittenfeld explores the loneliness, moral ambivalence and iron determination that characterise the quest for high office, as well as the painful compromises demanded of female ambition in a world ruled by men.
_____________________________
'A lot of fun. A wonderful sad dream of what might have happened' GUARDIAN

'It ends up being a love letter to a type: the female intellectual, who is given none of the licence of her less talented male peers. At the end, i found myself saying Oh My God' OBSERVER
'An explosive new book' GRAZIA
'Getting inside a living person's head sounds like a colossally bad idea, but Sittenfeld makes it convincing here, just as she did with a character based on First Lady Laura Bush in her 2008 novel, AMERICAN WIFE' BBC CULTURE
'An ingenious yet plausible glimpse of an alternative reality' THE SPECTATOR
'Sittenfeld's RODHAM offers the cartharsis of uncomplicated regret' NEW YORKER
'A nauseating, moving, morally suggestive, technically brilliant book that made me think more than any in recent memory' NPR
'Deviously clever . . . Sittenfeld's Hillary is both a player in the Game of Thrones and a romance novel heroine. She's a brilliant badass who has found her voice and knows how to use it. She's whoever she wants to be' O: THE OPRAH MAGAZINE
'Of all the SLIDING DOORS fantasies offered by the last 40 years of American office, this may be the most mouth-watering. THE BIG ISSUE
'Fascinating. Rich-with-possibilities concept' SAINSBURY'S MAGAZINE
Additional information
| | |
| --- | --- |
| Weight | 0.5 kg |
| Dimensions | 19.8 × 12.7 × 2.5 cm |
| Author | |
| Publisher | |
| Imprint | |
| Cover | Paperback |
| Pages | 421 |
| Language | English |
| Edition | 1st paperback ed |
| Dewey | 813.6 (edition:23) |
| Readership | General – Trade / Code: K |