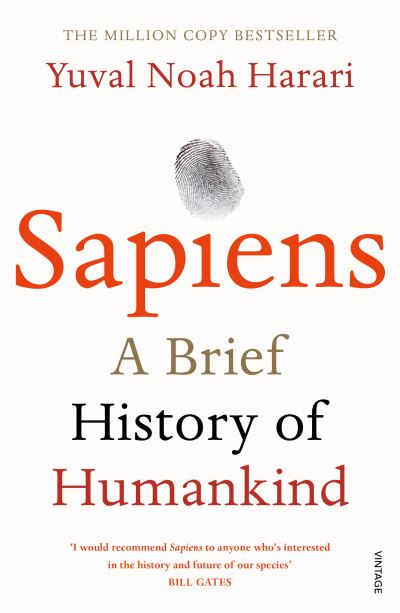 100,000 years ago, at least six human species inhabited the earth. Today there is just one. Us. How did our species succeed in the battle for dominance? Why did our foraging ancestors come together to create cities and kingdoms? How did we come to believe in gods, nations and human rights; to trust money, books and laws; and to be enslaved by bureaucracy, timetables and consumerism? And what will our world be like in the millennia to come? Bold, wide-ranging and provocative, 'Sapiens' challenges everything we thought we knew about being human: our thoughts, our actions, our power … and our future.
**THE MULTI-MILLION COPY BESTSELLER**

'Interesting and provocative... It gives you a sense of how briefly we've been on this Earth' Barack Obama
What makes us brilliant? What makes us deadly? What makes us Sapiens?
Yuval Noah Harari challenges everything we know about being human.
Earth is 4.5 billion years old. In just a fraction of that time, one species among countless others has conquered it: us.
In this bold and provocative book, Yuval Noah Harari explores who we are, how we got here and where we're going. The perfect gift for curious readers this Christmas.
________________
PRAISE FOR SAPIENS:

'Jaw-dropping from the first word to the last... It may be the best book I've ever read' Chris Evans

'Sweeps the cobwebs out of your brain... Radiates power and clarity' Sunday Times

'It altered how I view our species and our world' Guardian

'Startling... It changes the way you look at the world' Simon Mayo

'I would recommend Sapiens to anyone who's interested in the history and future of our species' Bill Gates

**ONE OF THE GUARDIAN'S 100 BEST BOOKS OF THE 21st CENTURY**
Additional information
| | |
| --- | --- |
| Weight | 0.437 kg |
| Dimensions | 19.8 × 12.9 × 3.7 cm |
| Author | |
| Publisher | |
| Imprint | |
| Cover | Paperback |
| Pages | x, 498 |
| Language | English |
| Edition | |
| Dewey | 599.909 (edition:23) |
| Readership | General – Trade / Code: K |