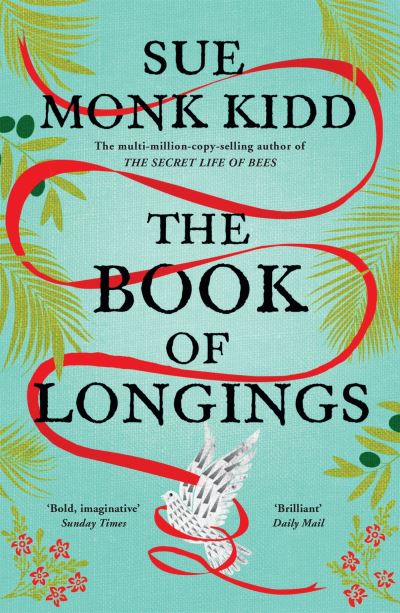 Ana is a rebellious young woman, a gifted writer with a curious, brilliant mind, who writes secret narratives about the neglected and silenced women around her. Raised in a wealthy family in Galilee, she is sheltered from the brutality of Rome's occupation of Israel. Ana is expected to marry an elderly widower to further her father's ambitions, a prospect that horrifies her. A chance encounter with the eighteen-year-old Jesus changes everything: his ideas and his passion are intoxicating. Taking Ana on a journey she could never have imagined, 'The Book of Longings' is a glorious evocation of a time and a place where astounding events unfolded, and of one woman's fate when she fights to make her voice heard.
THE New York Times BESTSELLER
The stunning bestseller about a woman who finds her voice and her destiny, from author of The Secret Life of Bees and The Invention of Wings
'Transporting, life-affirming, gripping. It is simply brilliant' Mel Giedroyc
'Fascinating . . . Clever, rebellious Ana is a memorable character' The Times
'Brilliant . . . Brava!" The Daily Mail
Ana is born in Galilee at a time when women are seen as possessions, only leaving their fathers' homes to marry.
Ana longs to control her destiny. Taught to read despite her mother's misgivings, she wants to be a writer and to find her own voice. A voice that will speak for the silenced women around her.
Betrothed to an elderly widower, Ana almost despairs. But an encounter with a charismatic young carpenter in Nazareth awakens new longings in her, and a different future opens up.
Yet this is not a simple love story. Ana's journey will bring both joy and tragedy, but it will also be enriched by the female friendships she makes along the way.
The Book of Longings is an exquisite tale of dreams and desire, and of the power of women to change the world.
'One of my favourites' Alicia Keys

'I kept having to close this novel and breathe deeply, again and again . . . It is a true masterpiece' Glennon Doyle, author of Untamed
'Unleashes the reader's imagination with glorious evocations of extraordinary times and places, allowing our minds to roam . . . Original, challenging, beautiful' Adele Parks, Platinum
'Compelling . . . Ana is a truly wonderful character, strong and inspiring, and her life story so captivating that it swept me along' Good Housekeeping

'This moving novel by bestselling author Sue Monk Kidd persuasively imagines the marriage between a brilliant young woman and Jesus' Daily Mail
'Incredible . . . A story which is full of humanity, love and tenderness - and one which touched me deeply.' Brown Flopsy's Book Bureau

'The way that Hamnet gave a voice to Shakespeare's wife, this does the same for Ana . . . One of the greats for historical fiction' Books by Bindu

'Not a day has passed since I finished reading it that I have not thought about Ana, her story and the beautiful lyrical words Sue has written' TheFallenLibrarian

'I loved it. I loved the feminist theme, I loved the language and I loved the imagery of putting voice to your longings and then giving birth to them. Just fab' BetweenMyLines

'Glorious. Beautiful. Life-affirming' Buried Under Books
Additional information
| | |
| --- | --- |
| Weight | 0.3 kg |
| Dimensions | 19.8 × 12.8 × 2.8 cm |
| Author | |
| Publisher | |
| Imprint | |
| Cover | Paperback |
| Pages | 418 |
| Language | English |
| Edition | 1st paperback ed |
| Dewey | 813.6 (edition:23) |
| Readership | General – Trade / Code: K |