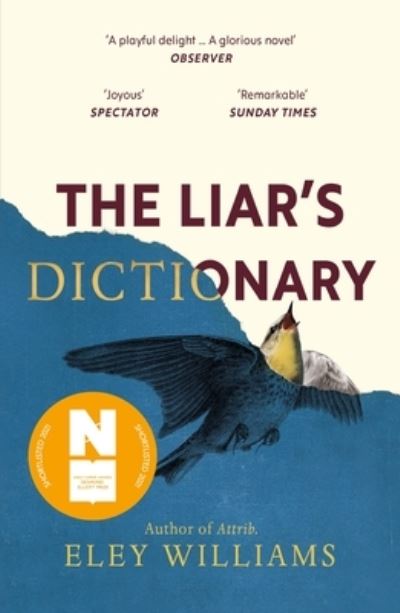 It is the final year of the 19th century and Peter Winceworth has reached the letter 'S', toiling away for the much-anticipated and multi-volume 'Swansby's New Encyclopaedic Dictionary'. He is overwhelmed at his desk and increasingly uneasy that his colleagues are attempting to corral language and regiment facts. Compelled to assert some sense of individual purpose and exercise artistic freedom, Winceworth begins inserting unauthorised, fictitious entries into the dictionary. In the present day, young intern Mallory is tasked with uncovering these mountweazels as the text of the dictionary is digitised for modern readers. Through the words and their definitions she finds she has access to their creator's motivations, hopes and desires. More pressingly, she must also field daily threatening anonymous phone calls.
A WINNER OF THE 2021 BETTY TRASK AWARDS
SHORTLISTED FOR THE DESMOND ELLIOTT PRIZE 2021
__________________________
'Joyous' SPECTATOR
'Remarkable' SUNDAY TIMES
'A playful delight... A glorious novel' OBSERVER
Swansby's New Encyclopaedic Dictionary is riddled with fictitious entries known as mountweazels penned by Peter Winceworth, a man wishing to make his lasting mark back in 1899. It's up to young intern Mallory to uncover these mountweazels before the dictionary can be digitised for modern readers.
Lost in Winceworth's imagination - a world full of meaningless words - will Mallory finally discover the secret to living a meaningful life?
__________________________
'Made me almost tearful with gratitude that a book as clever as this could give such uncomplicated pleasure ... And when you find a book like this, you grab it, and you hold it close.' JOHN SELF
'A delight ... As funny and vivid as Dickens, as moving and memorable as Nabokov ... An extraordinarily large-hearted work.' THE CRITIC
'Deft and clever, refreshing and rewarding ... An assured and satisfying writer, her language rich and intricate and her characters rounded enough to be sympathetic and lampoonist enough to be terribly funny.' LITERARY REVIEW
'[The] most exciting of young British writers ... Williams luxuriates in words and wordplay, in definition and precision and invention ...The Liar's Dictionary is a public joy, and Eley Williams a free-spirited literary kook with bags of potential.' BIG ISSUE
'A singular, hilarious, word-drunk novel, which I suspect will be seen in the future as a classic comic novel.' DAVID HAYDEN, IRISH TIMES
'The Liar's Dictionary is the book I was longing for ... Positively intoxicated with the joy and wonder of language ... Eley Williams brings erudition and playfulness - and lovely sweetness - to every page.' BENJAMIN DREYER, New York Times bestselling author of DREYER'S ENGLISH
'This tale of lexical intrigues is an absolute joy to read! It's gloriously inventive and playful, but with just the right amount of heart.' LUCY SCHOLES
Additional information
| | |
| --- | --- |
| Weight | 0.205 kg |
| Dimensions | 19.8 × 13 × 1.5 cm |
| Author | |
| Publisher | |
| Imprint | |
| Cover | Paperback |
| Pages | 265 |
| Language | English |
| Edition | 1st paperback ed |
| Dewey | 823.92 (edition:23) |
| Readership | General – Trade / Code: K |