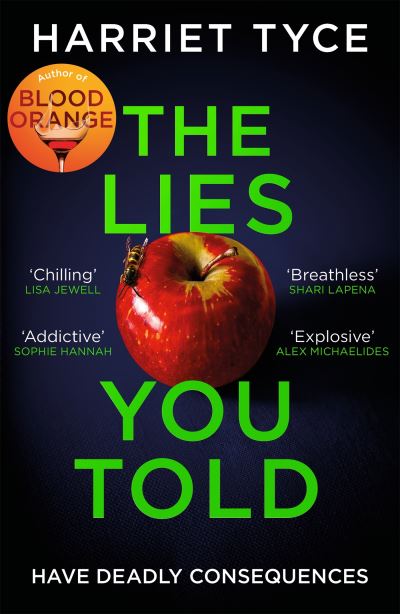 Sadie has moved back to London so her daughter can attend the exclusive school her domineering father has secured her a place at. It's highly sought-after and highly competitive – just like the other mothers, Sadie soon discovers. While she's trying to get her daughter settled and navigate the fraught politics of the school gate, Sadie is also trying to reclaim a position in her old legal chambers – she used to practice as a criminal barrister. She's given the junior brief on a scandalous case involving a male teacher and his student. It's an opportunity to prove herself, but will she let a dangerous flirtation cloud her professional judgement? And will her sudden close friendship with another mother prevent her from seeing the truth – and the threat that she's inviting into her home?
Shocking, dark, addictive - THE LIES YOU TOLD is the latest compulsive thriller from Harriet Tyce, bestselling author of BLOOD ORANGE.
'A jaw dropping last line twist' Lisa Jewell, #1 bestselling author of The Family Upstairs
'Impossible to put down' Independent
Sadie loves her daughter and will do anything to keep her safe.
She can't tell her why they had to leave home so quickly - or why Robin's father won't be coming with them to London.
She can't tell her why she hates being back in her dead mother's house, with its ivy-covered walls and its poisonous memories.
And she can't tell her the truth about the school Robin's set to start at - a school that doesn't welcome newcomers.
Sadie just wants to get their lives back on track.
But even lies with the best intentions can have deadly consequences...
'I read The Lies You Told in two days, barely able to turn the pages fast enough. It's spare and taut, the sense of wrongness building in chilling, skilfully written layers, with a jaw dropping last line twist' Lisa Jewell, #1 bestselling author
'I adored Blood Orange and therefore could not wait to get my hands on The Lies You Told. It is a triumphant encore, every bit as intriguing, well-written and addictive as its predecessor' Sara Collins, award-winning author of The Confessions of Frannie Langton
'An absolute page turner with a twist you'll read twice because you can't believe you missed it' John Marrs, author of What Lies Between Us
'Totally addictive - I was gripped' Sophie Hannah, author of Haven't They Grown
'A twisty page-turner from the author of Blood Orange' Sarah Pinborough, author of Behind Her Eyes
'A gripping and intelligent thriller' Stylist - round-up of must-read books this summer
Additional information
| | |
| --- | --- |
| Weight | 0.26 kg |
| Dimensions | 19.6 × 12.6 × 3 cm |
| Author | |
| Publisher | |
| Imprint | |
| Cover | Paperback |
| Pages | 371 |
| Language | English |
| Edition | 1st paperback ed |
| Dewey | 823.92 (edition:23) |
| Readership | General – Trade / Code: K |