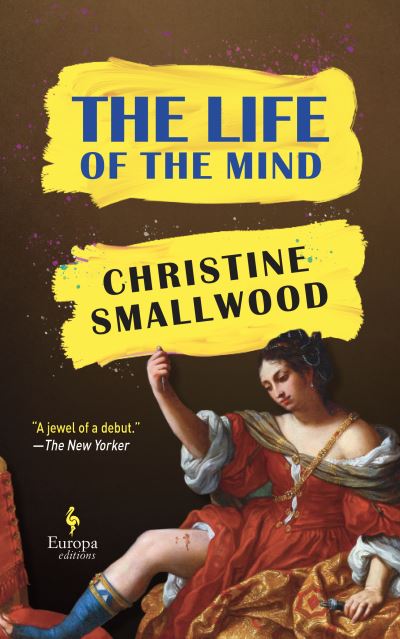 Six days ago, Dorothy had a miscarriage. At the novel's opening, she is examining the 'thick, curdled knots of string' that are still coming out of her body. Her doctor had told her that the bleeding would stop in a few days, but it hasn't. She considers the miscarriage as 'less than a trauma and more than an inconvenience'. Like everything that happens to Dorothy, she observes the events of her life with detached interest.
?
***A NEW YORK TIMES BEST BOOK OF 2021***
***A TIMES MAGAZINE, LITHUB, WHITE REVIEW BEST BOOK OF 2021***
?
"Calling all millennials - This is the comic novel for you."-THE TIMES
The Life of the Mind opens with Dorothy sitting on a library toilet, checking her phone and examining the "thick, curdled knots of string" coming out of her body. No one but her boyfriend knows that she's had a miscarriage, not even her therapists-Dorothy has two of them.
An adjunct professor of English in New York City with no hope of finding a permanent position, Dorothy's stuck, unable to envision the future or cut ties with the past. "What did you call it," she asks herself, "when a life stopped developing, but it didn't end?"
Christine Smallwood's debut is a campus novel like no other. Piercingly intelligent and darkly hilarious, it moves from a classroom to an underwater puppet show, from a conference in Las Vegas to a karaoke party. It is a discomforting glimpse into the head of a brilliant woman on the edge, it is a novel about endings: of youth, of professional aspiration, of possibility, of the illusion that our minds can ever free us from the tyranny of our bodies.
WHAT READERS ARE SAYING
"I am expecting this one to blow up along the lines of My Year Of Rest and Relaxation."-Jennifer on Netgalley
"Moving and unflinching."-Stephen on Netgalley
"So smart! So enjoyable!"-Alexandra on Goodreads
"I love this book and am having a hard time putting it down."-Amazon reviewer
"I finished this book many months ago, and I think about it constantly."-Shannon on Goodreads
"Brilliantly brutal."-Suzie on Instagram
Additional information
| | |
| --- | --- |
| Weight | 0.218 kg |
| Dimensions | 21 × 13.5 × 2 cm |
| Author | |
| Publisher | |
| Imprint | |
| Cover | Paperback |
| Pages | 240 |
| Language | English |
| Edition | Paperback original |
| Dewey | 813.6 (edition:23) |
| Readership | General – Trade / Code: K |